DZ135T Aluminum Reformer Bed with Tower black
Tmax classic newest set Metal Frame commercial white Aluminum Core Training Bed half tower reformer Pilates Machine.Aluminum Reformer Bed with Tower.
Aluminum Reformer Bed with Tower Machine
| | |
| --- | --- |
| | Aluminum Pilates Reformer with half tower trapeze |
| | |
| | |
| | |
| | Black or Dark Grey or Light Grey or White |
| | |
| | Customized Logo Available (MOQ 10 PCS) |
| | |
| | |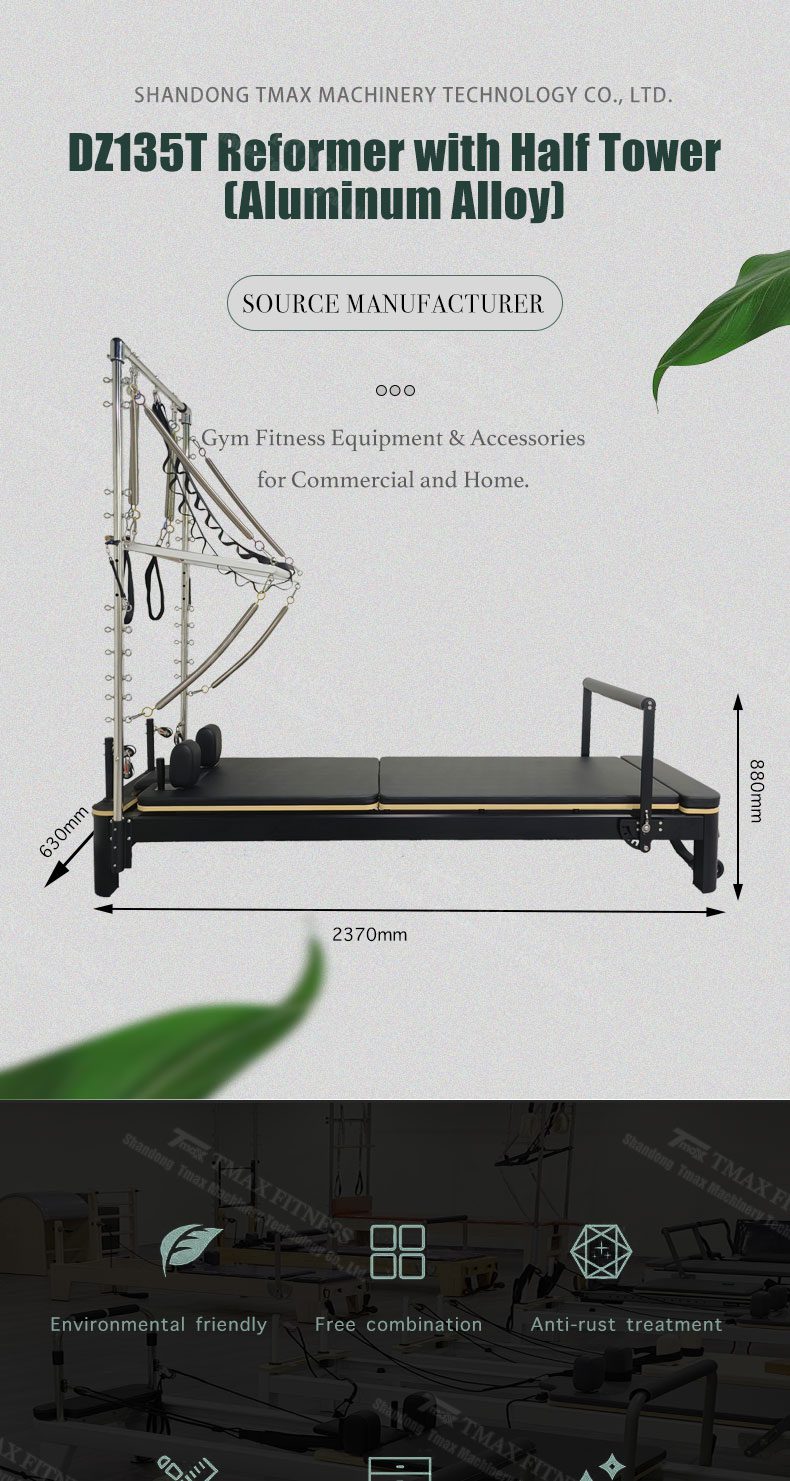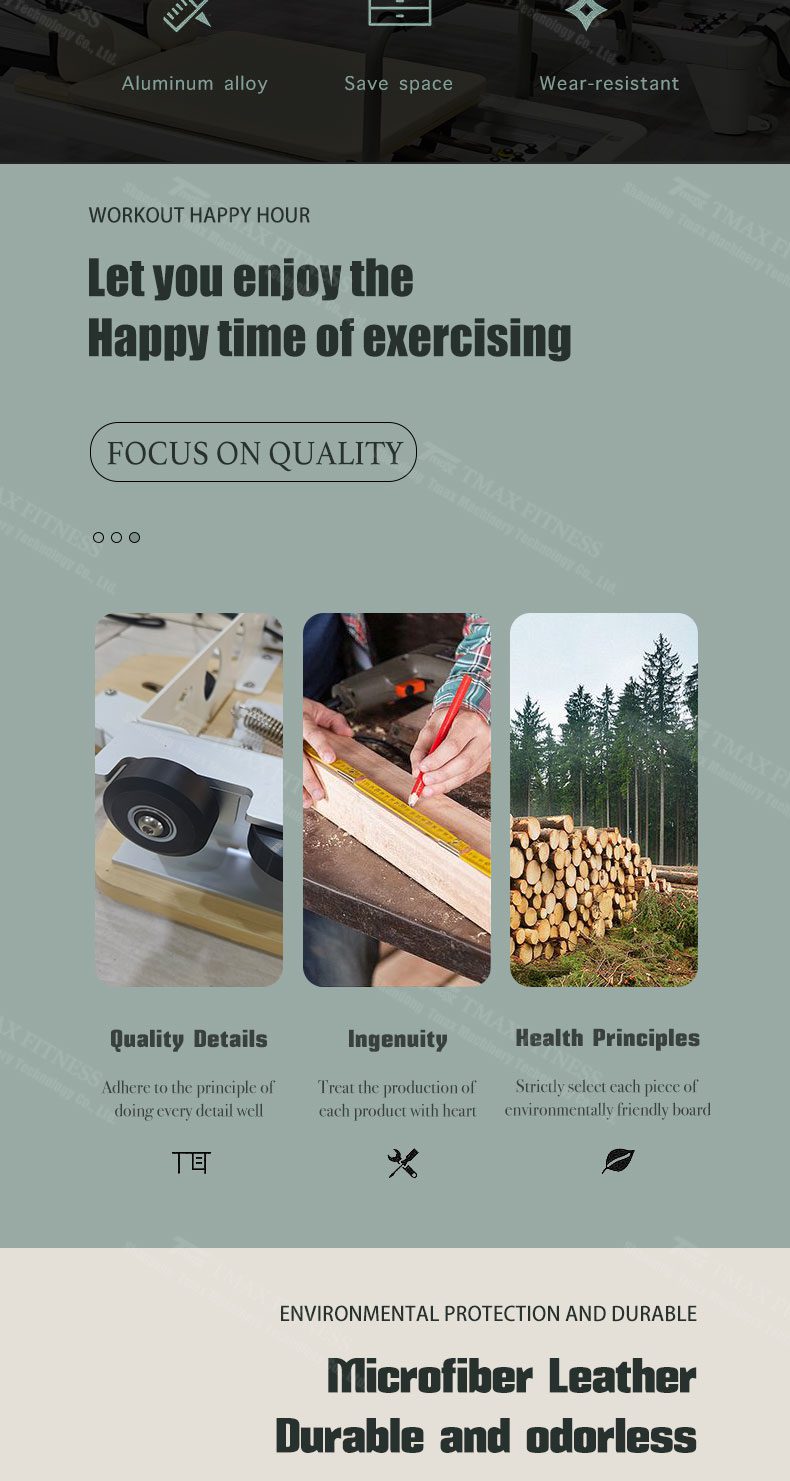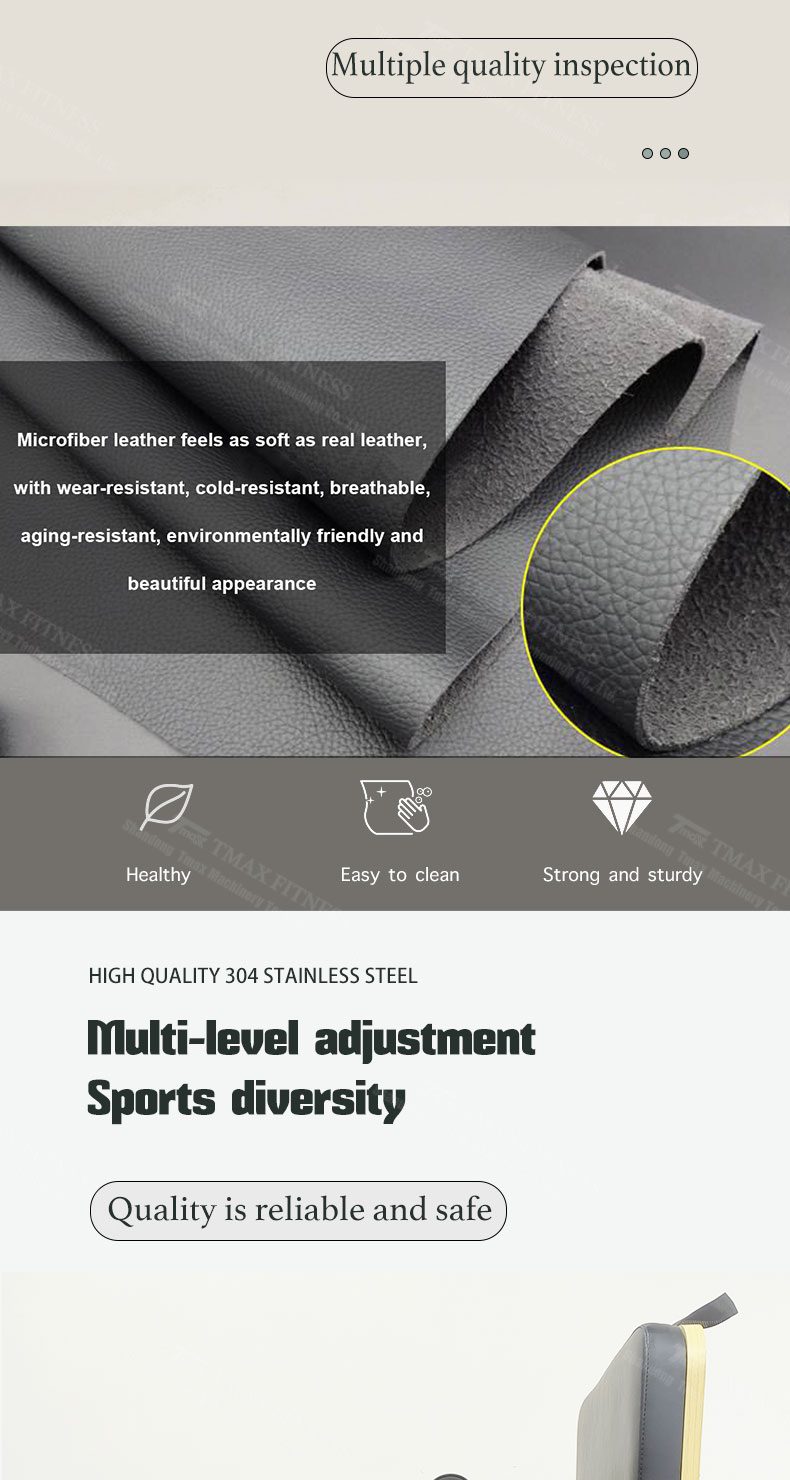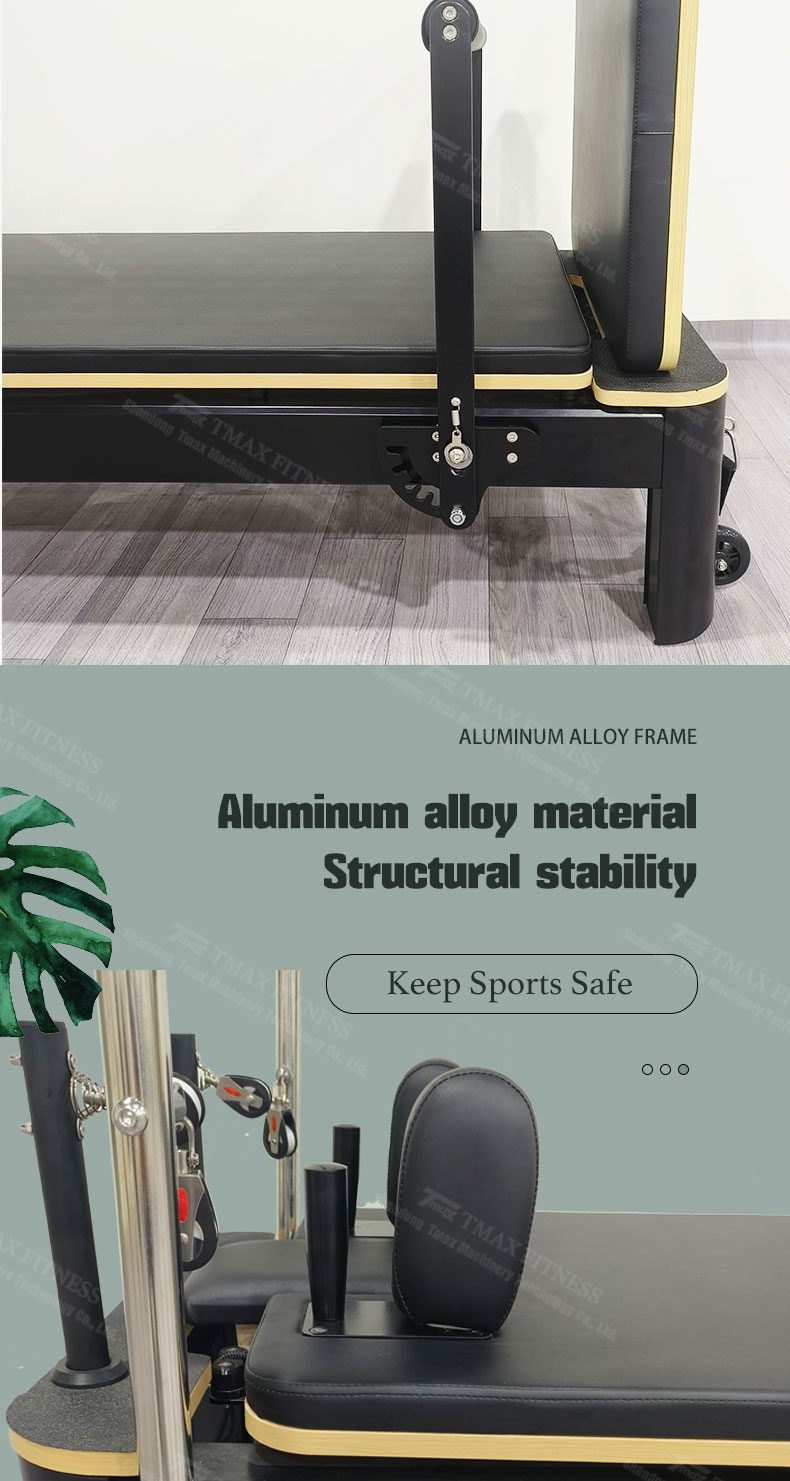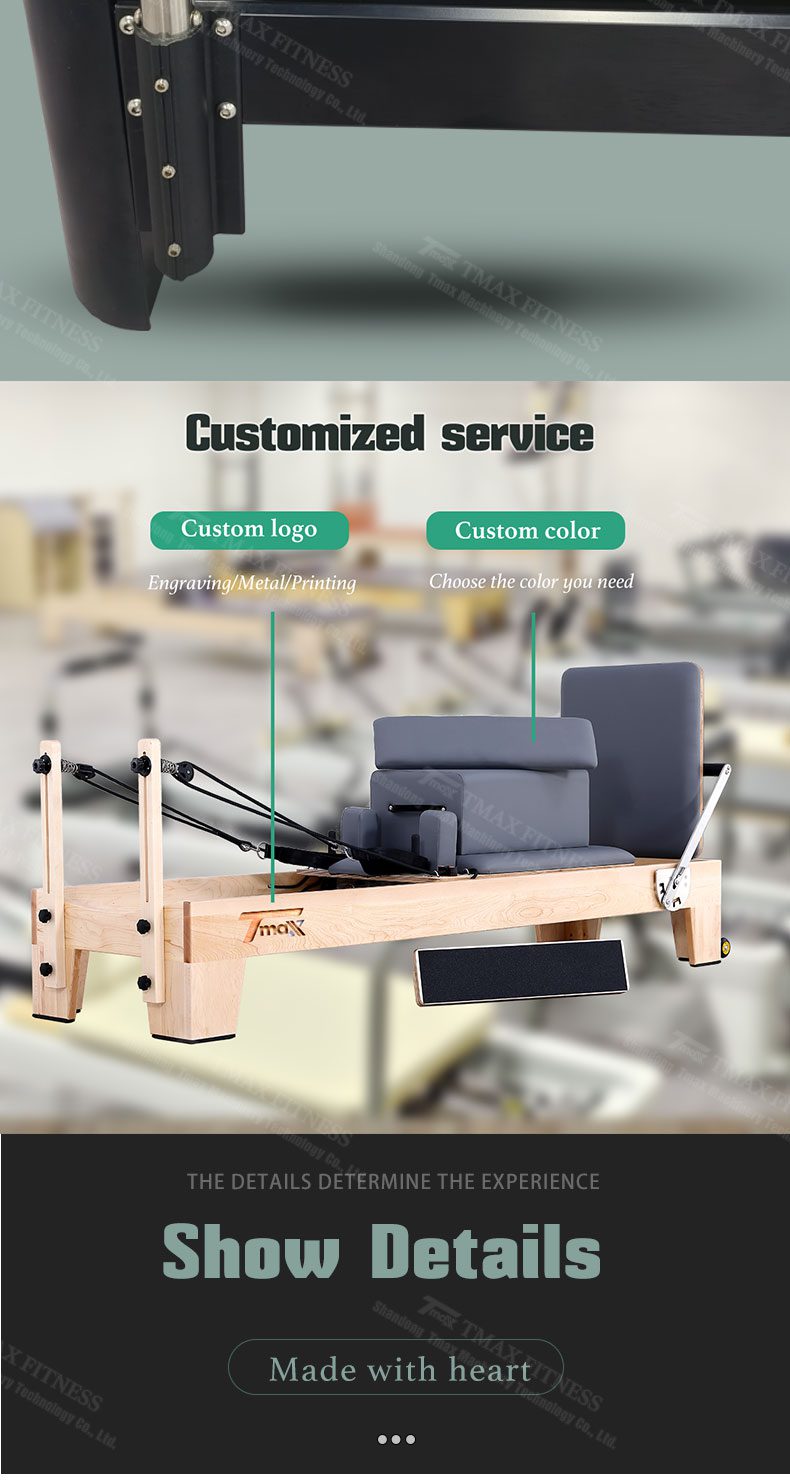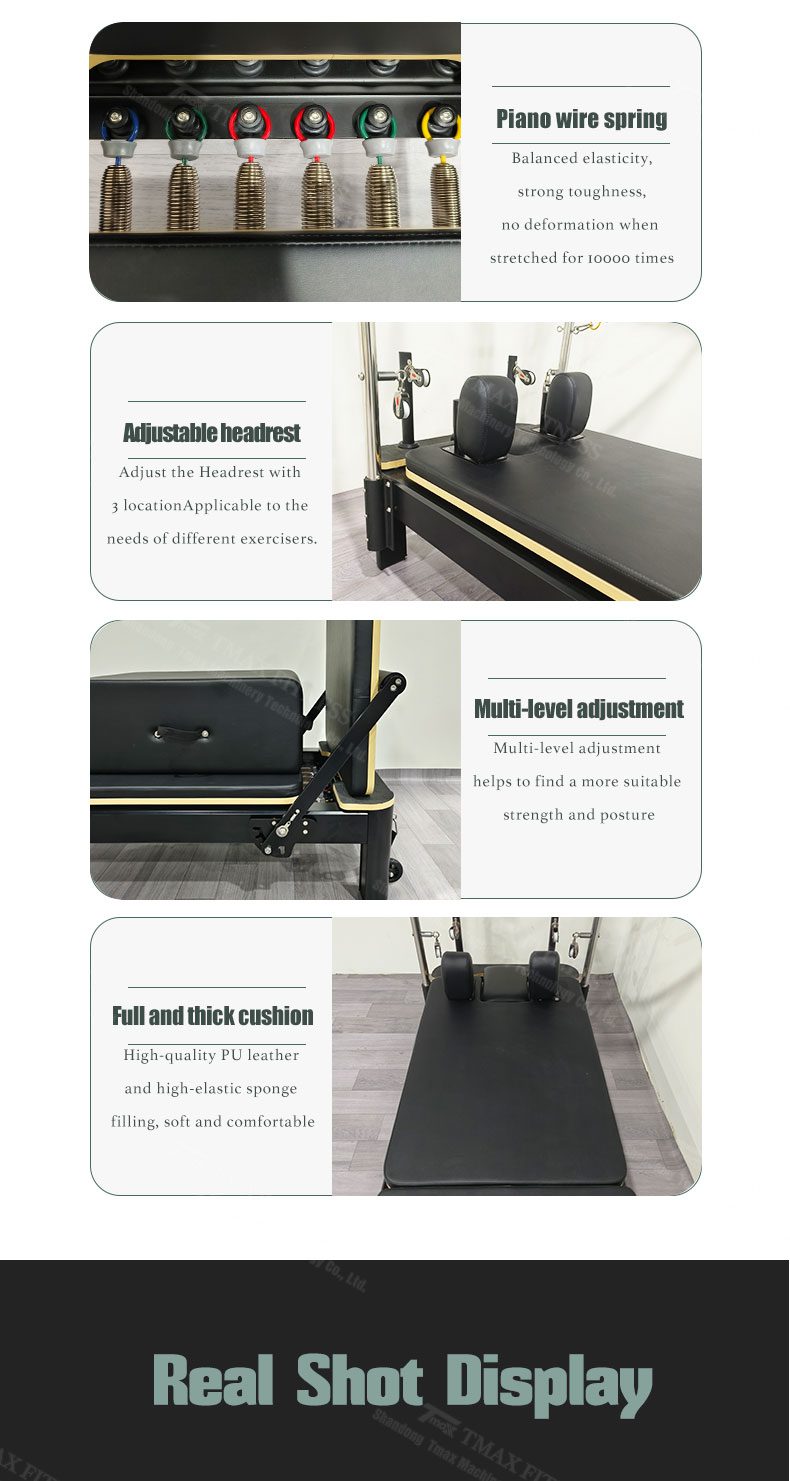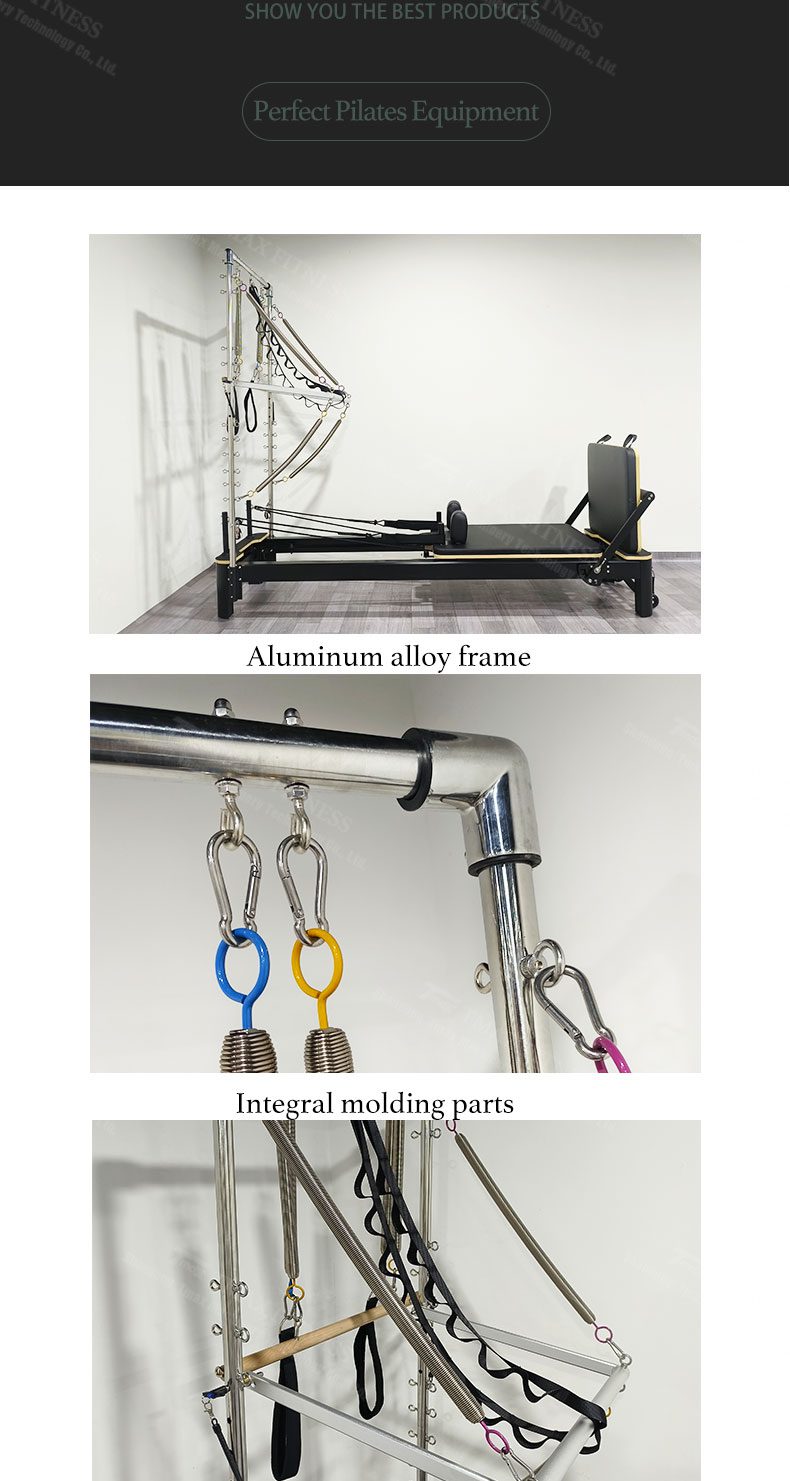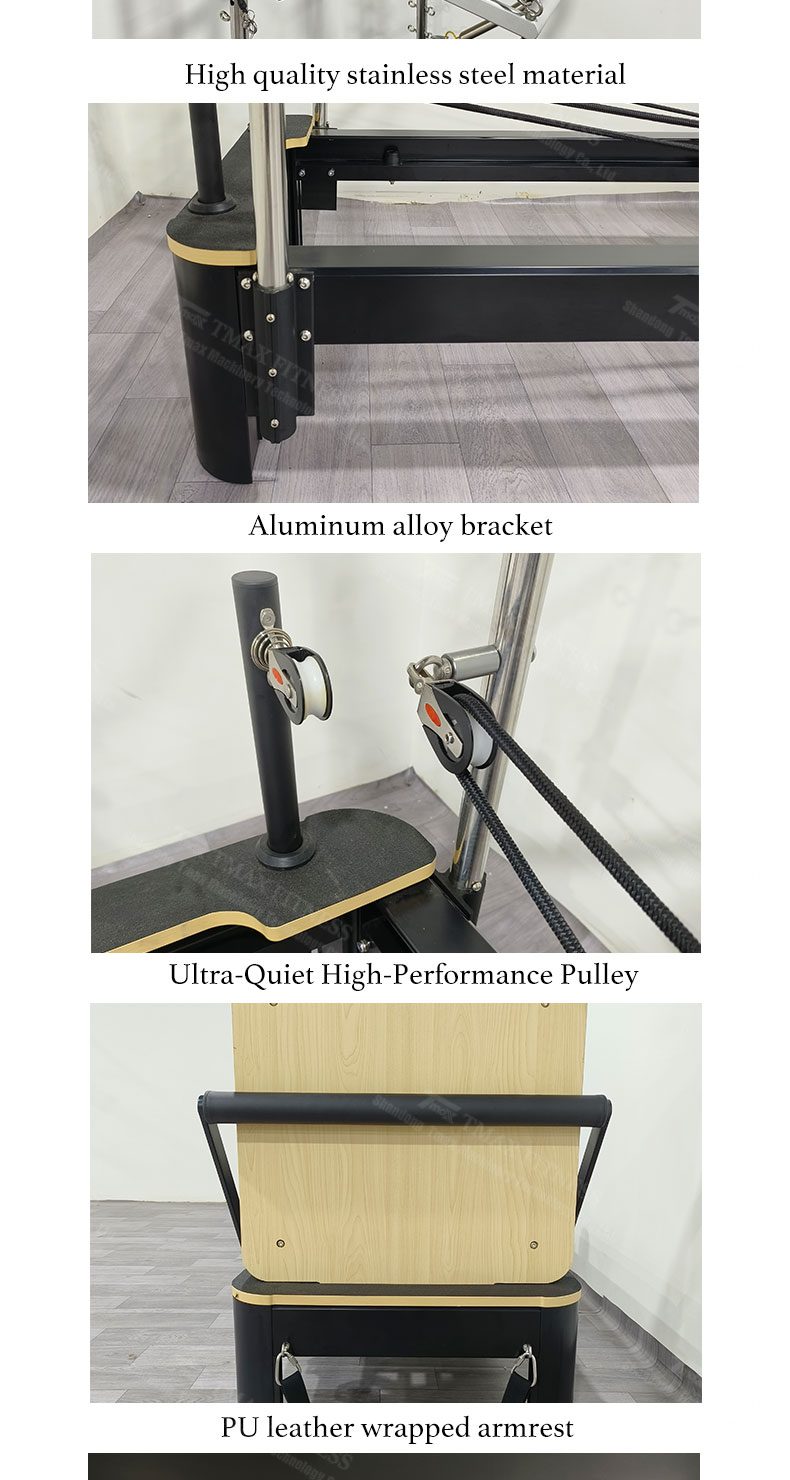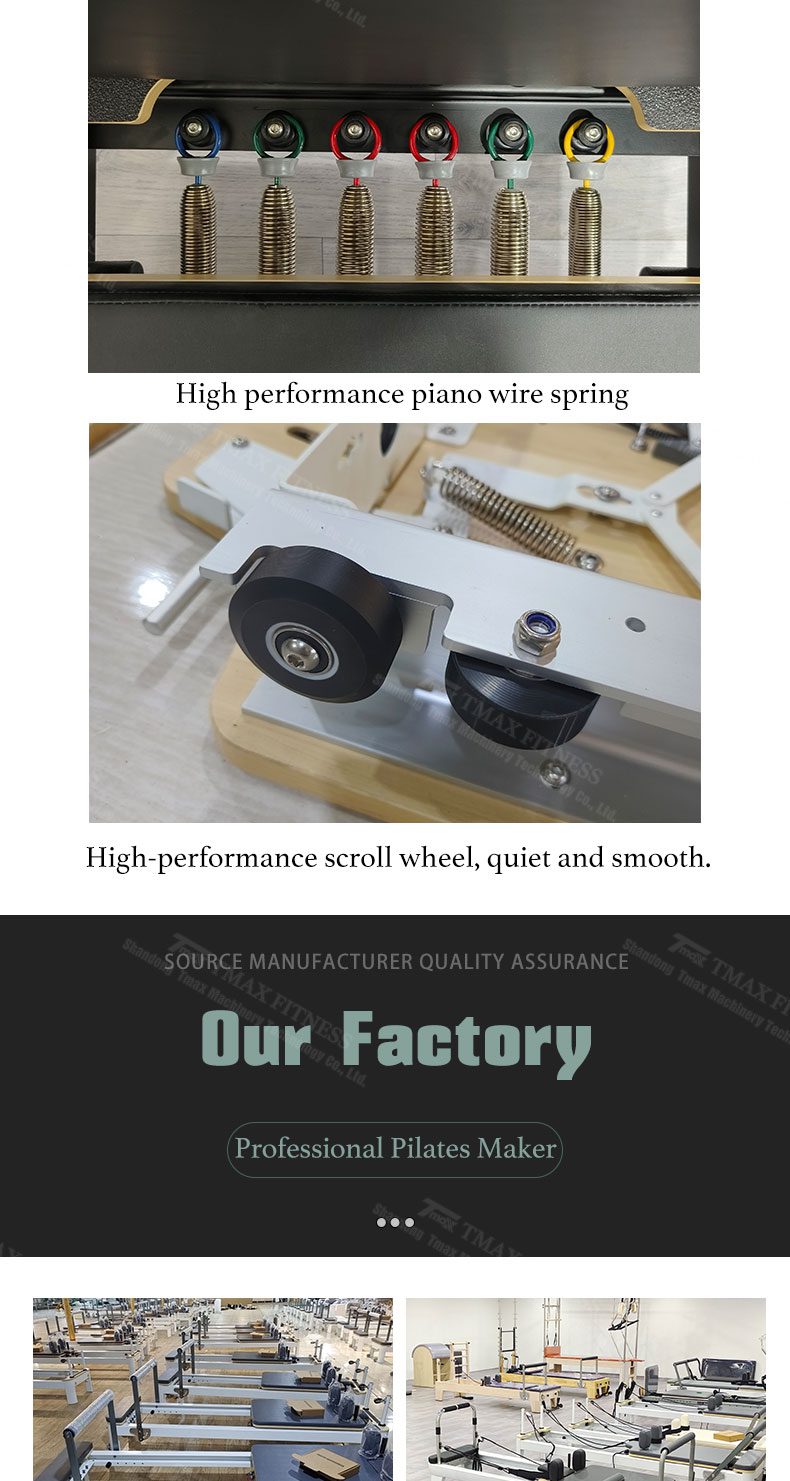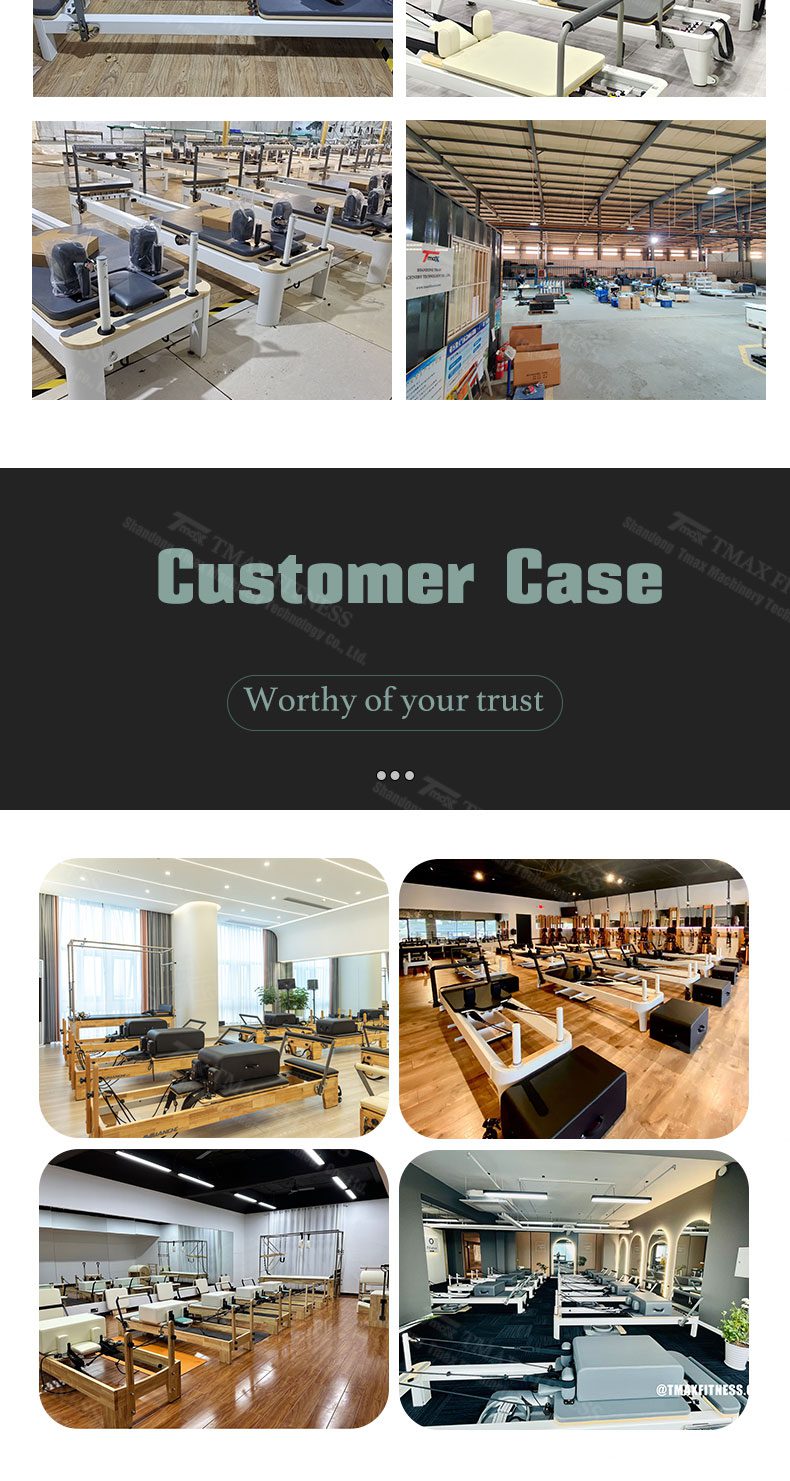 High Endurance Adjustable Spring Set
1. Well-known brand imported spring.
2. High Resilience: Spring linear acceptance, uniform force.
3. Long Life: Long-term elasticity does not lose,and safety is guaranteed.
4. High Quietness: Rebound without noise, improve concentration.
European imported fiber leather, using leather with 30% fiber content. Microfiber leather is a new type of technological fabric. It does not have the smell of cowhide, and its texture is very similar to real leather. Each piece of leather has undergone twelve manual inspections, such as waterproof, anti-fouling, dust-proof, 0 formaldehyde, 500 dry wipes, 200 wet wipes, yellowing resistance, tear resistance and other rigorous tests to ensure that the product is durable
The inner lining sponge is made of , and the 7D silicon processing technology is adopted to make it more lubricated and soft, with good resilience.
Self-developed sponge, exclusive seat feeling in first-class cabin. The soft elasticity is highly fit, the notes are smoothly curved, and the flexible and free design, like a melodious note, shows the beauty of elegance, softness and dynamism.
1. Is Aluminum Reformer Bed with Tower Pilates hard for beginners?
And reformer classes introduce a whole other element, too, utilizing the machine to add resistance and leverage to certain exercises. Don't read this wrong — Pilates is great for beginners and totally open to all levels of experience, but it might help to know a few things before walking into your first reformer class.
2. Is it worth buying a Aluminum Reformer Bed with Tower Pilates?
Is Pilates reformer a good workout for you? "The Aluminum Reformer Bed Pilates is best for individuals who are seeking to achieve core stability and good postural alignment," says O'Connell. According to Tianna Strateman, VP of Education for the Club Pilates, Pilates reformer can be a great workout for anyone.
https://wa.me/message/BR4JW7QO3A73A1
#aluminumpilateswithtower #pilateswithtower #reformerbedwithtower #reformerwithtower
#pilates #reformerpilates #reformer #pilatesstudio #pilateslife #pilatesinstructor #spinecorrector #ladderbarrel #stepbarrel #combochair #wundachair
#yoga #pilatesfitness #pilatesworkout #pilateschair #stabilitytraining #calillacbed #cadillacpilates #cadillacreformer #alloyreformer #alloyreformerbed #alloypilates #reformerbed #reformerpilates
DZ137T Aluminum Alloy Pilates Core Reformer Bed with Tower Pilates Machine Exercises Workout Indoor Studio Fitness Equipment
DZ137 Aluminum Reformer Bed Pilates Exercises Workouts Fitness Equipment Factory Promotion