DZ138 Maple Combo Chair Pilates Exercises Workouts Fitness Equipment Factory Promotion
DZ138 Maple Combo Chair Pilates Exercises Workouts Fitness Equipment Factory Promotion
| | |
| --- | --- |
| | |
| | |
| | |
| | |
| | |
| | |
| | Customized Logo Available (MOQ 10 PCS) |
| | |
| | |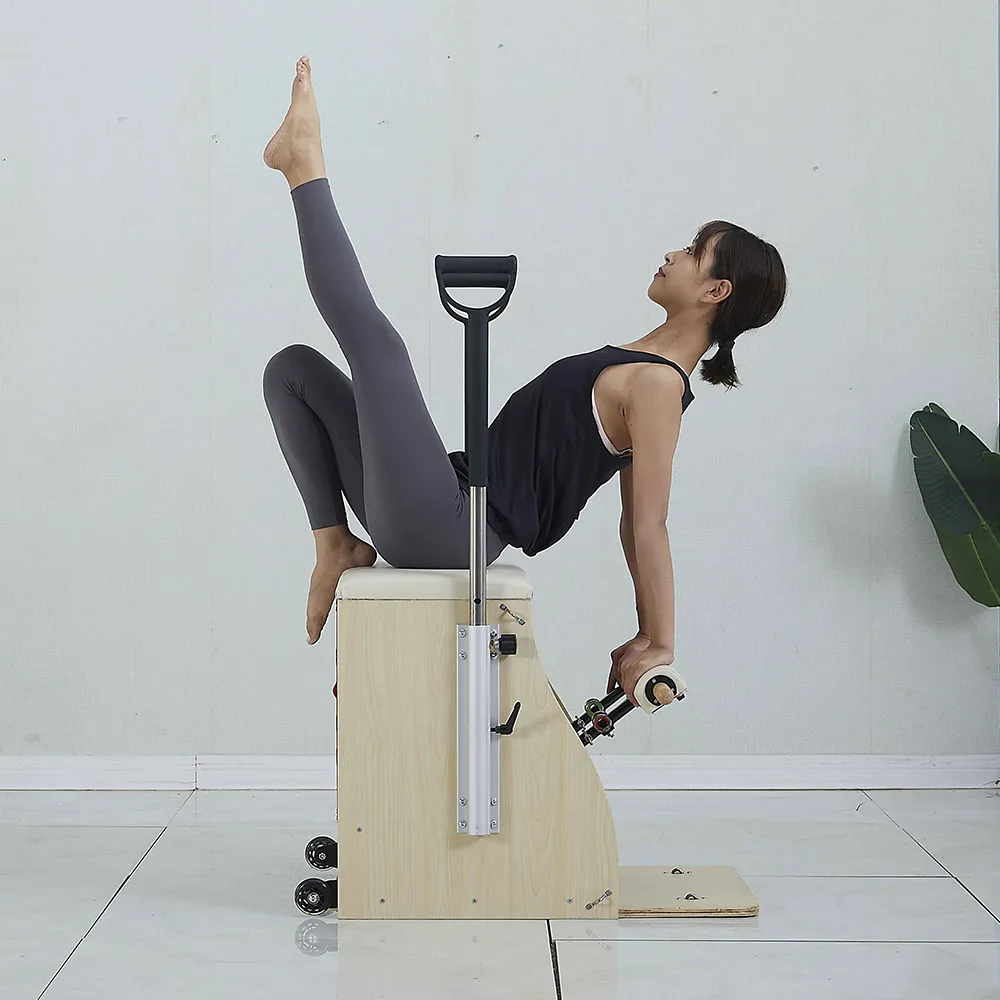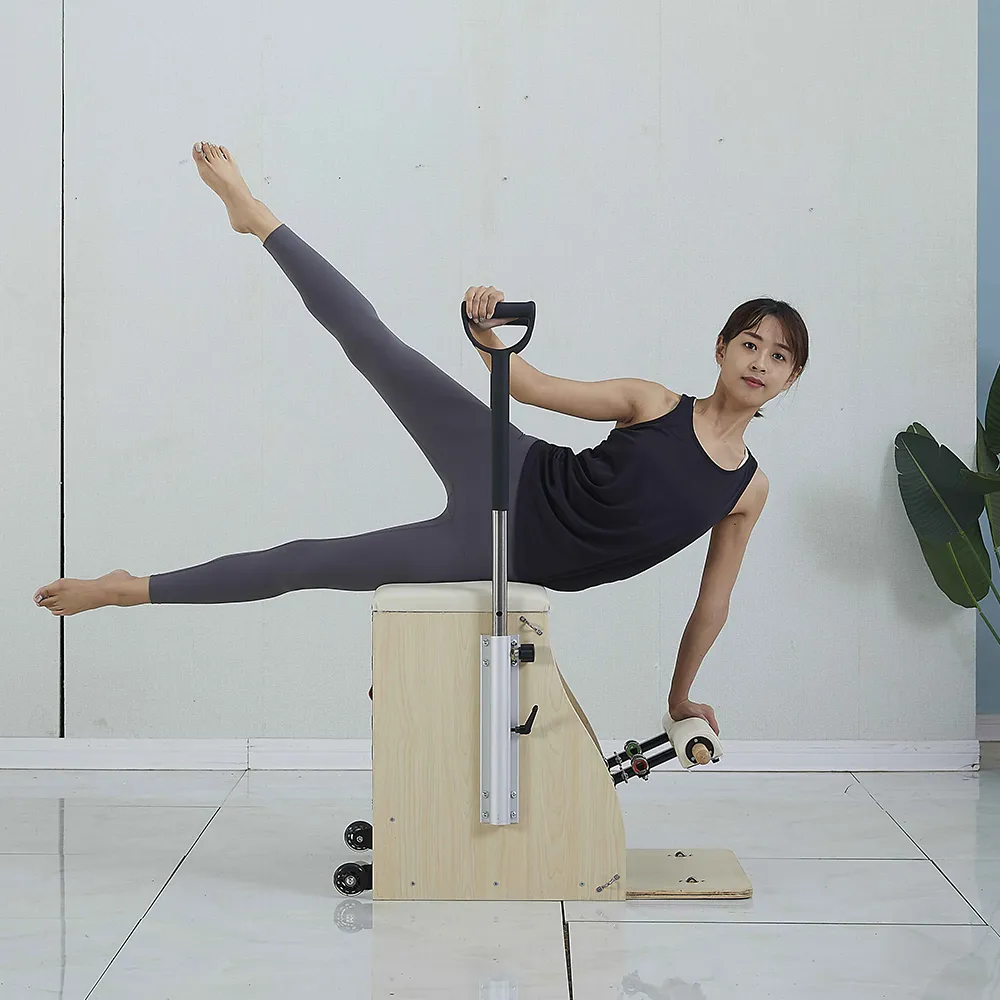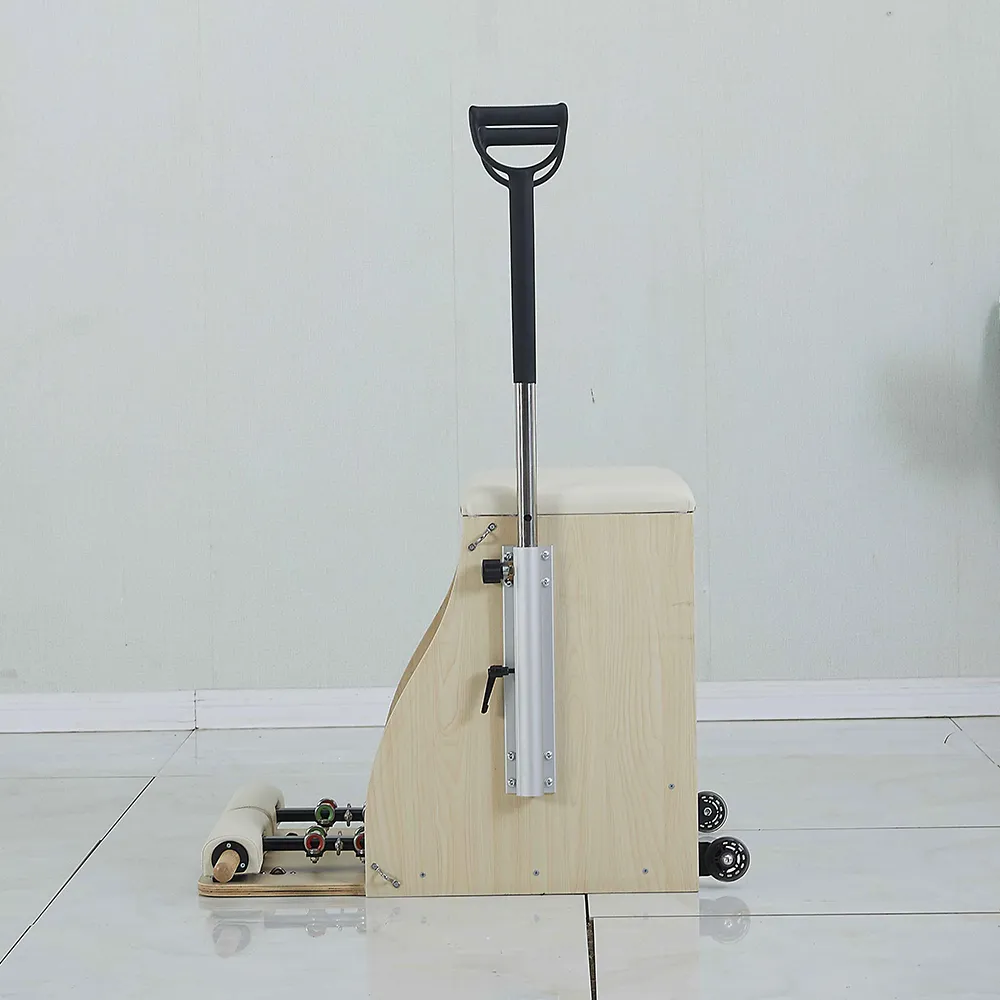 What is a Combo Chair?
The Combo Chair is an apparatus designed by Joseph Pilates, the man behind the exercise system that bears his name and the inventor of the famous Pilates Reformer. Resembling a backless chair, the Combo Chair consists of a wooden base topped by a padded seat that doubles as the world's smallest exercise Mat.
What is the Combo Chair good for?
The Combo chair provides benefits for the lower back, the abdomen, the spine and the pelvic region. It helps you with a number of benefits, including building the strength of the core of the body.
Double structure double-thick outer bar, non-slip bottom frame sponge and non-slip cover, top plate T50 30t eco-friendly high-density sponge, high-quality steel spring with excellent elasticity and resilience, dual structure spring hanger bar, one additional fixing lever for outside chair bar, stick cradle installation
Artificial leather cover applied to handle/outer bar/bottom plate, side plate and foot plate 21t, top plate T50 30t eco-friendly high-density sponge, top-grade spring applied, finger strap applied to spring, high-leg pump box exercise applied (option), added side fixing lever for outside chair bar
Product Size: L=830mm, W=550mm, H=1120mm.
Tmax Combo Chair is the first choice for home exercise equipment. The movement form of the Combo Chair is to move the body up and down, challenging the balance and strength of the body. This stable step chair adopts a unique spring and replacement system, which can change the difficulty of the action more conveniently, and also effectively protect the equipment. This equipment is not only used as a single person, but also can be changed into a group lesson. The training of hundreds of movements can meet the requirements and influence of group courses.
European imported fiber leather, using leather with 30% fiber content. Microfiber leather is a new type of technological fabric. It does not have the smell of cowhide, and its texture is very similar to real leather. Each piece of leather has undergone twelve manual inspections, such as waterproof, anti-fouling, dust-proof, 0 formaldehyde, 500 dry wipes, 200 wet wipes, yellowing resistance, tear resistance and other rigorous tests to ensure that the product is durable
The inner lining sponge is made of , and the 7D silicon processing technology is adopted to make it more lubricated and soft, with good resilience. Self-developed sponge, exclusive seat feeling in first-class cabin. The soft elasticity is highly fit, the notes are smoothly curved, and the flexible and free design, like a melodious note, shows the beauty of elegance, softness and dynamism.
The Pilates Chair is the ultimate for space-saving Pilates. It's designed to stretch and strengthen muscle groups not easily reached by more traditional techniques and equipment.
Our Combo Chair is the most stable and strongest on the market. For custom colors, call to order
https://wa.me/message/BR4JW7QO3A73A1
#pilates #reformerpilates #reformer #pilatesstudio #pilateslife #pilatesinstructor #combochair
#yoga #pilatesfitness #pilatesworkout #pilateschair #stabilitytraining #calillacbed #cadillacpilates #cadillacreformer
DZ138 Wood Combo Chair Pilates Machine Exercises Workout Indoor Studio Fitness Equipment
DZ137 Aluminum Reformer Bed Pilates Exercises Workouts Fitness Equipment Factory Promotion